Ten years!  That's how long HFFA and the Iowa DNR have been co-sponsors of the Iowa State Fair Fly-Tying Competition.  My involvement started at the beginning helping Larry Murphy set up the display in the DNR Building.  Then took over the responsibility as one of the three judges.  During that time, I've look at and securitized dozens of flies, if not more.  Along with Paul Domoto and Keith Wunder, we've seen great, good and not so good-looking flies.
So, what separates a great looking fly (worthy of a ribbon consideration) from a not so good-looking fly?  In my humble opinion, it's not paying attention to details or carelessness on the part of the fly tyer.  Below are a few examples:
Materials not proportion to the size of the hook.
Materials not secured when transitioning from one material to another.
Uneven thread wraps behind the hook eye.
Not trimming the thread close when completing the head of the fly.
And probably the number one reason is that the fly arrives in crushed or poor condition!
Out of curiosity, I asked the Fly-Tying Competition Coordinator, Larry Murphy, how were tyers sending him their entries?  His answer set me back a bit!  He told me that most of the Expert tyer division, mailed their flies in some type of box to protect the fly within an envelope.  The majority of those entering as Adult or the Junior division, just put their flies in an envelope.  An envelope?  Really!!
Suggestion for mailing the flies would be the following examples:
Plastic container which fly hooks are purchased for each fly entered.
Prescription plastic containers for each fly entered.
Little plastic containers used when purchasing flies from a shop or store.
So why does the method of sending in your flies make a difference?  Because the time that it leaves your bench and is presented to the judges, it has most likely been crushed and disheveled.  Then once that envelope arrives at the State Fair Administration Building, that envelope is going to go into someone's desk drawer along other entries, until the coordinator picks them up.  So, in the end all your hard work has been crushed!!  And, a crushed fly does not catch the judge's eye!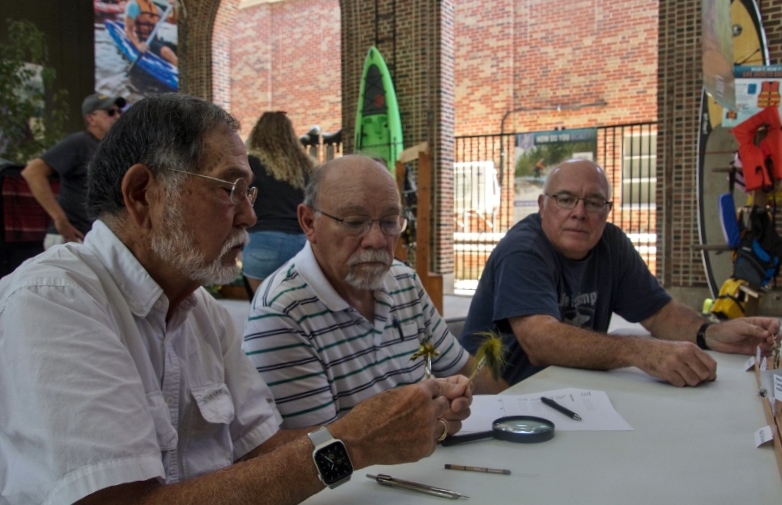 Hawkeye Fly Fishing Association (HFFA) holds events and provides resources for people interested in fly fishing, fly tying and fish habitat conservation. We are an Iowa-based affiliate of Fly Fishers International.
Would you like to support the mission of Hawkeye Fly Fishing Association? Please consider becoming a member or making a donation.