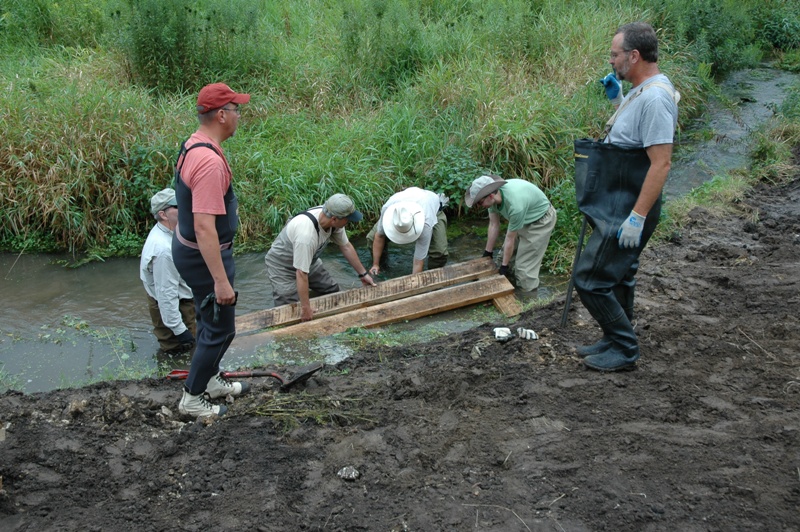 Hawkeye Fly Fishing Association undertakes several conservation projects each year involving primarily the cold water streams of Northeast Iowa. In 1989, Governor Terry Branstad presented the club with the State of Iowa Governor's Volunteer Award. This award recognized HFFA's involvement with conservation on Iowa's trout streams as outstanding service to the State of Iowa.
The club works closely with the Iowa Department of Natural Resources; activities include fencing streams, building bank hides and other fish holding structures, and assisting in fish population surveys.
Recent HFFA Conservation Actions
HFFA board voted to be a partner in a stream restoration project on North Bear
Yellow River Easement: Dianne Rissman Water Quality and Angler Access Easement for 0.69 miles of the Yellow River. Partnered with 3 TU chapters. ($35,935)
North/South Bear Porta-Potty support ($440)
The HFFA board unanimously approved contingency funding not to exceed $1,000 to cover the cost of open records request and possible experts in the review of the Nutrient Management Plan for a potential feedlot development near Bloody Run Creek. ($1,000)
HFFA contributed money for in-stream work on the restoration of part of Little Paint Creek that lies within the Yellow River State Forest Campground ($2,150)
HFFA contributed money to the "Save Bloody Run" campaign for water testing equipment and legal fees ($4,000)
Land acquisition on Bloody Run that provided 0.6 mile of stream access ($750)
Land acquisition on Ten Mile Creek providing 1000 feet of stream access ($5,000)
Yellow River Easement: Dianne Rissman Water Quality and Angler Access Easement ($2,000)
Maquoketa River Fencing/Grazing Project ($1,250)
Donation to ICC (to match 3 TU chapters) Up to ($5,000)
Iowa Driftless TU:  N-S Bear porta-potty chemicals ($385)
Printing of Clayton County Trout Maps ($2,000)
Neotropical Migratory Bird Conservation acquiring land along North Bear Creek ($500)
Iowa Driftless TU:  Waterloo Creek restoration ($1,000.00)
Iowa Driftless TU:  N-S Bear porta-potty chemicals ($200)
IDNR/City of Ames:  low head dam removal ($1,000)
IDNR:  Project Aware ($500)
NE IA RC&D:  Allamakee County Trout Maps ($500)
Start-up check to Iowa's Coldwater Conservancy: Part went to the Casey Springs purchase in HFFA's name ($5,000)
HFFA Conservation Grant Program
HFFA provides grants for conservation projects. See the lists (above) and examples of past projects (below) for an idea of the types of projects we fund. Awards typically range from $500 to $2000.
How to Apply for an HFFA Conservation Grant
If you have a project you would like to see funded, please contact the HFFA president prior to sending an application.
Grant requests are reviewed at the Annual Meeting in February, and throughout the year as necessary. To apply for a conservation grant use the form below.
Return the completed application to the email address listed on the form.
Conservation_Assistance_Form_2022 (Word Doc)
Conservation_Assistance_Form_2022 (PDF)
Conservation_Assistance_Form_2022_fillable (Fillable PDF)
Past HFFA Conservation Projects
Hawkeye Fly Fishing Association has provided volunteers and funding for many projects over our 40+ year history. Below are a few examples.
Ensign Hollow
With the assistance of the Iowa Natural Heritage Foundation, a portion of Ensign Hollow, located north of Strawberry Point, was acquired and improved with the help of club members starting in 1990. This stream is now managed under catch and release regulations and holds a good population of brown trout. Recently a 21 inch brown was caught and released at Ensign Hollow.
Seed Savers Exchange Heritage Farm, Winneshiek County
HFFA, in cooperation with the three Iowa-based Trout Unlimited chapters, and the Seed Savers Exchange organization, provided funding, in-kind support, and volunteer hours in July, 2011 to remove an artificial pond and restore the original stream course of South Canoe Creek, which was altered in the 1950s. The pond sat at the headwaters of the creek, between the spring source and the main channel of the stream. South Canoe is one of several creeks being used to expand the population of the threatened South Pine Brook Trout, the last remnants of native brook trout in Iowa.
More than 40 volunteers showed up on a hot July Saturday to follow-up on two weeks of heavy machine work and engineering. Volunteers finished and seeded the stream banks, placed rock in the new streambed, removed invasive species, migrated insects and plants, and completed the bed of a new bridge. The SSE staff graded and seeded the surrounding site in the following weeks, and planted new trees in the fall. On completion, the stream segment was returned to its original name of Pine Spring Creek. This new segment, like the existing portion of the stream, is open to public catch & release fishing, and is a cold-water riparian restoration demonstration project which is very visible and accessible to the non-angling public visiting the Seed Savers visitors' center located on the property. As of June, 2012, the vegetation has grown in nicely, macroinvertebrates are abundant, and visitors regularly walk down to inspect the water or simply enjoy the sounds of the cold-running creek.
Patterson Creek, Allamakee County
An a nearly-annual basis, HFFA members volunteer to assist the IDNR in the construction of trout-stream bank hides, a/k/a lunker structures, which increase overhead cover and, consequently, carrying capacity and survivability of trout populations in many Iowa streams. The IDNR provides the stout native oak planks, and HFFA members cut and assemble the lumber into the completed bank hides. Whether assembled on a particular habitat improvement site, or at the Manchester trout hatchery or the Yellow River State Forest for later delivery by flat-bed trailer, HFFA-assembled bank hides are ultimately installed in the to-be-restored streambank by private contractors and IDNR personnel using heavy earthmoving equipment. Hundreds of feet of bank hide go into Iowa trout streams every year.
Most of these sites are on public land, thereby increasing the quality of the fisheries available to the Iowa fishing public. Some are on private land open to public fishing. HFFA has been doing stream improvements, both using volunteer labor and financial resources to physically install instream improvements like rocks and half-logs, or assembling lunker structures for installation by IDNR contractors, in cooperation with the IDNR for over 30 years. One recent example is on Patterson Creek. In June, 2010, HFFA volunteers met streamside on the Howe family property to assemble about a dozen such bank hides, which were then later installed in the creek, increasing its ability to host holdover trout and improving the fishing experience on a stream that complements other great streams in the area such as South Bear Cr. and Waterloo Cr.
Spring Branch Creek, Delaware County
Many of Iowa's creek fisheries were impacted by the flooding in 2008. Spring Branch Creek - a premier fly fishing destination in Iowa and one of a handful of streams benefitting from special regulations - was no exception. As a result of the 2008 flooding, and the irregularly heavy spring rains in 2009 and 2010, many of the more desirable holding pools and artificial bank hides (see above) that had been previously installed on Spring Branch had filled in with sand washed in from upstream uplands. Wading the stream in certain spots became a challenge, and the stream's reputation for growing large trout began to decline. Adjusting to a change of plans necessitated by yet more rain, HFFA volunteers shifted from the stream cleanup originally scheduled for the special regulations section of the Maquoketa River to a novel sand and debris removal project on Spring Branch using mechanical means to remove the deposits filling up the refuge holes and bank hides. The section of stream worked on is the famous "wall" section running alongside the public parking lot at the fish hatchery.
Hawkeye Fly Fishing Association (HFFA) holds events and provides resources for people interested in fly fishing, fly tying and fish habitat conservation. We are an Iowa-based affiliate of Fly Fishers International.
Would you like to support the mission of Hawkeye Fly Fishing Association? Please consider becoming a member or making a donation.