The first weekend in October found Casting for Recovery Iowa Chapter's fall retreat in full swing.  HFFA members supported CFR with their help.  Mick and Lisa McVey long time HFFA members help to organize this event.  It was held at the Ewalu Stone Retreat Center just outside Strawberry Point, Iowa.  This year 12 women, chosen from the registration process learn all aspects of fly fishing and fly tying ending with fly fishing a day on the great NE Iowa trout streams.
Each participant is paired up with a "river helper".  Some of the river helpers are as follows: Ron Stahlberg, Willa Campbell, Kate Lodge, Cheryl Channon, Mike Jacobs, Martin Acerbo, Lance Zook, Ronda Long, Dave Jones, Andy Totman, Jonathan Schmidt, and Lisa Davis.  Many of these folks are HFFA members.
CFR covers all the expenses and supplies all the equipment for the fly fishing experience.  Exile Brewing Company in Des Moines is a major supporter.  Their "Ruthie Beer" is sold with one dollar going to CFR for each Ruthie sold.  It is my understanding there is a non-alcoholic Ruthie also.   Exile is hosting an event October 13th at their location on Walnut Street from 5:00 to 8:00 pm with 50% of proceeds to go to support CFR.
The Iowa chapter has been holding this retreat since 2013 with one year cancelled due to covid.  CFR is a great organization and prior participants sing the praises of this retreat each year.  Watch for the registration request for 2023. (Editor's note: Mike Jacobs, Lisa Davis & Mick and Lisa McVey supplied information and photos for this article)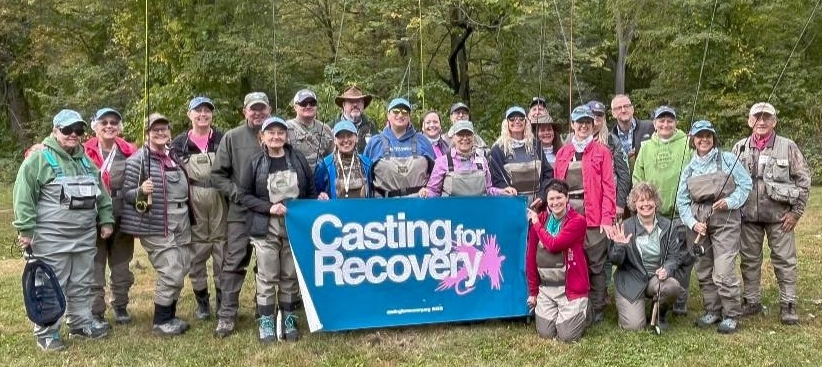 Hawkeye Fly Fishing Association (HFFA) holds events and provides resources for people interested in fly fishing, fly tying and fish habitat conservation. We are an Iowa-based affiliate of Fly Fishers International.
Would you like to support the mission of Hawkeye Fly Fishing Association? Please consider becoming a member or making a donation.