The Bluegill outing was held at Lake Wapello this year. 11 people showed up and had a great time. The weather threatened to keep us from getting on the water but other than a few sprinkles before lunch it did not hamper the outing at all. By the time we started cooking the rain went away and we all enjoyed a nice meal together. The fishing was excellent, You could not keep the fish off your line. Lots of bluegill and crappie made the meal. Cheryl made her famous onion paddies, Lance and Lori brought a fruit salad, and Steve brought a Chinese noodle salad and caught a lot of the fish. I made Bourbon baked beans, a rhubarb crisp and a blueberry cobbler. It was enough to fill us all up. My 7 month old granddaughter Alice came and loved the bluegill. She even got dressed up to go fishing for a little bluegill with the help of Steve. I hope she will take up the sport of fly fishing in a few years. All in all we had a great time. I wish more people would show up for this, at one time we had 60 people at the outing, lets see what we can do to get people back into coming. Some of the new members need to experience this fun.
We are going to attempt to have a trout outing this fall Sept 23-25th. It will probably be held at the Upper Iowa Resort and Canoe Rental campground at Dorchester. That used to be well attended also, lets see if we can get some people to come this year. There is no special meal everyone just cooks their own food. But we do have the "Big Liars" contest around the evening campfire. Lets get back to spending some time with friends and enjoying the great fishing in NE Iowa. It's there for us to enjoy. See you then. Watch for updates on the Trout Outing later in the summer.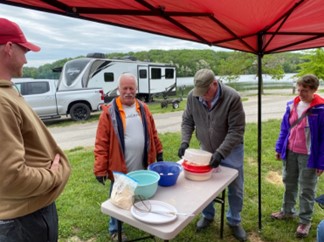 Hawkeye Fly Fishing Association (HFFA) holds events and provides resources for people interested in fly fishing, fly tying and fish habitat conservation. We are an Iowa-based affiliate of Fly Fishers International.
Would you like to support the mission of Hawkeye Fly Fishing Association? Please consider becoming a member or making a donation.